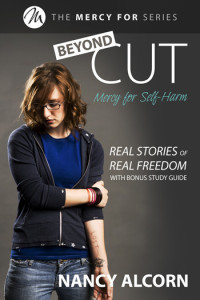 You can't hide your scars anymore, and you realize that you are out of control. Hurting yourself does not erase the pain you feel inside, and you are finally ready to reach out for help. After reading "Mercy For Self-Harm," you know that there is hope for breaking free!
In "Beyond Cut: Real Stories, Real Freedom," Nancy Alcorn, founder and president of Mercy Ministries, presents personal stories from young women who have found freedom from self-harm and guides readers through practical steps to break free from this self-destructive behavior. There is Mercy for self-harm!
"Beyond Cut: Real Stories of Real Freedom" is not designed to be a replacement for professional help; it is recommended that young women struggling with self-harm use this book in conjunction with Christian counseling or mentoring.
Return Policy
Mercy Canada would like to ensure that you are completely satisfied with your purchases. If you are dissatisfied with your purchase for any reason, please contact ask@mercycanada.ca or call 604-535-1983 within 14 days of receiving the product to resolve problems or arrange your return and refund. Please keep in mind the following policies:
Refunds will be processed as soon as products are received in good condition by Mercy Canada.
Purchases of event tickets will be refunded up to and including the published date for allowing refunds.
All event tickets are transferable. Please contact ask@mercycanada.ca to transfer event tickets to another user.
Mercy Canada is unable to provide refunds for downloaded resources or the cost of shipping products.
All proceeds from the sale of resources and products go towards the operating costs of Mercy Canada.