Mercy Moves Mountains, Book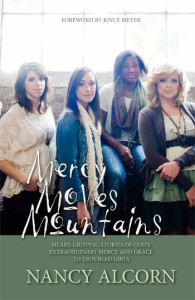 Nancy Alcorn's "Mercy Moves Mountains," contains story after story of girls who have overcome problems such as eating disorders, drug addictions, unplanned pregnancies, and sexual and physical abuse. These riveting stories will cause you to realize that in Christ there is no such thing as a hopeless case. This book reveals the magnitude of God's mercy that can move any mountain in any life whose heart is willing.
Return Policy
Mercy Canada would like to ensure that you are completely satisfied with your purchases. If you are dissatisfied with your purchase for any reason, please contact ask@mercycanada.ca or call 604-535-1983 within 14 days of receiving the product to resolve problems or arrange your return and refund. Please keep in mind the following policies:
Refunds will be processed as soon as products are received in good condition by Mercy Canada.
Purchases of event tickets will be refunded up to and including the published date for allowing refunds.
All event tickets are transferable. Please contact ask@mercycanada.ca to transfer event tickets to another user.
Mercy Canada is unable to provide refunds for downloaded resources or the cost of shipping products.
All proceeds from the sale of resources and products go towards the operating costs of Mercy Canada.